WS 5425/WS 5427 & T 5205C/T 5206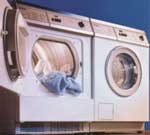 Miele's Little Giants are the perfect answer to daily laundering needs. These Little Giants are commercial 5 and 6kg capacity washing machines and tumble dryers. Together with a rotary ironer, your laundering requirements will be sated. Beware the cheaper option of choosing domestic machines to run your laundry - these commercial machines are designed to run for hours every day. Professional usage requires professional technology!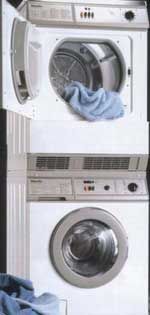 The working life of Miele machines is world renowned. The quality and attention to detail are second to none, and Miele machines are attuned to achieve optimum efficiency with the lowest possible consumption levels.
In commercial situations there can often be a lack of space so compact design is essential. These Little Giants can even be stacked to make the maximum use of available floor space.
The Miele Range of Little Giants also have an integrated Type A air gap as standard, which means that they can be directly connected onto the mains without any risk of backflow. The Type A air gap provides protection up to Category 5 Risk, i.e any establishment with incontinence or medical problems.
Washing Machines
Reduced energy and detergent consumption - Fully electronic controls allow the wash parameters and programme length to be altered.


Improved performance - With 1200 rpm spin, you achieve a residual moisture level of only 55%, so drying costs are greatly reduced.


Simplicity - Everything the operator needs to know is clearly presented on the angled facia panel.


Extra additional features - Add functions to standard programs, for example, a pre-wash that is not included as standard or an additonal rinse. A choice of 13 programs and 3 spin speeds, and every program can be run at every temperature

Tumble Dryers
Sensitive drying - The moisture sensing drying system, an invention of Miele, assesses the moisture content of the washing, a microcomputer registers it and automatically compensates for variations in the water quantity. The result - you achieve the same residual moisture content every time. The Multitronic fully electronic controls give you 9 moisture sensing programmes and 2 timed drying programmes.


Smooth results - A sophisticated reversing system ensures your laundry does not come out creased. The smooth high quality stainless steel drum alternates at regular intervals, separating the washing, ensuring it is dried evenly and reducing drying time.


Audibly quieter - Sturdy housing and special insulation mean that noise is reduced to 61dB(A) for vented dryers and 64 dB(A) for condenser dryers.
A robust stacking kit ensures that the WS 5425 washing machine and a tumble dryer can be securely fited together. 30% of Little Giant owners use this solution to make double the use of available floor space.
Rotary Ironer
Miele offers this rotary ironer to match the capacity of the Little Giants. The HM 16-83 is ideal for laundry operations where space is of prime consideration. As laundry is fed in and returned to the front of the ironer it is suitable for installation against a wall where it can be operated by one person. Though compact in size it is capable of processing a large number of items per hour to a high standard.
This model has a patented finger guard and automatic stop mechanism for added peace of mind. At the slightest touch the roller will stop and the heater plate will lift off to prevent fingers getting burnt.
Don't forget that Commercial & Domestic Appliance Repairs can offer you Breakdown Insurance cover on all of the above machines, providing peace of mind for up to four years.

To find out more about the Little Giants, go to our Contact page to request information.
ACCESSORIES
Coin/token boxes

The Little Giants can be easily adapted to coin or token operation by fitting either the C5002 Coin/token box or the C4031 Multi-coin box. Two versions of the C5002 are available to distinguish between the token type for washing and drying operations, whereas the coin version accepts combinations of 20p coins. The C4031 is ideally suited to camp-sites or halls of residence where greater flexibility is required. It accepts a greater number of coins and can be programmed to suit individual requirements.
Bases

Miele offer two versions of plinth - the UO5005 open plinth (300mm in height), or the UG5005 plinth which is enclosed with stainless steel panels. Plinths serve two useful functions - raising the height of the machine making it easier for users, and increasing the vertical height of the drain connection. Plinths are especially recommended for use in applications where the machines are being used by the elderly, for example in sheltered housing.
Laundry baskets and trolleys

To make transportation of heavy laundry loads easier, Miele offer two choices of basket size with matching trolleys. The baskets are available in 40 litre or 80 litre capacities, in easy to clean plastic. The trolleys are fitted with directional castors for easy manoeuvring and a separate handle is available which is supplied with all fixings.
Booster pump and flow switch

Recommended for installations where there is low water pressure, the two stage close coupled pump is operated by the flow switch and is triggered only when the washing machine inlet valve is open. The flow switch will function down to a minimum flow rate of 0.5 litres per minute and the pump requires to be wired to a separate switch socket/spur outlet.