WS 5073 Washer Extractor & T6185 Tumble Dryer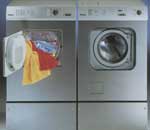 Miele laundry equipment is the economical solution to professional washcare. With their 7.5kg load capacity, the new washer extractor and tumble dryer models are the stars of the new Compact Class. They are ideal for in-house laundry applications in hotels, nursing and large residential homes, as well as washing workwear in industrial situations.
The Multitronic electronic control system gives you a choice of wash settings, thus achieving the best possible programme for your application. With its motor technology and FU drive, the WS5073 washer extractor can be set to work in agressive environments such as textile cleaning. The smooth-sided stainless steel drum guarantees the best possible textile care - even with fabrics as sensitive as curtains. The large loading opening of 300mm diameter and the wide door opening angle of 140 degrees ensures easy handling, even of large items. The Miele tumble dryer T6185 is the perfect complement to the WS5073.
WS 5073 Washer Extractor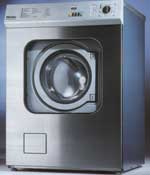 Control system - Multitronic MC13 electronic control has 13 fixed programs with programme modification options. Temperature and time-left display, and easy pushbutton door opening.


Dispensing system - Four compartment dispenser box in machine lid with the dispensing sequence being determined by the operator. Ready for connection to 3 liquid dispensing pumps


Wash system - Scoop and ladle technology allowing rapid saturation of wash with low water and energy consumption. Gentle drum acceleration with minimum load imbalance and low noise levels. Spin levels give low residual moisture, and an interim spin gives improved rinsing.


Easy to install - simple, fast set-up - no fixing to floor required
T6185 Tumble Dryer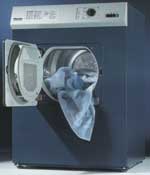 Control system - 11 Electronically controlled drying programmes. Residual moisture monitoring. Drying stage reached indicator and error message indicator.


Drying system - Miele Sensitive system. This drying system ensures precise monitoring of residual moisture levels by automatically adjusting to fluctuations in water quality. Reversible tumble action for fast, even drying and loosened, soft laundry.


Drum - smooth sided, stainless steel drum ensures a long life and your laundry is protected. The large drum diameter gives the lowest possible energy consumption with short drying times and smooth, soft laundry.

To find out more about the Compact Class machines, go to our Contact page to request information.
ACCESSORIES
Pumps for liquid dispensing
Plinths
Coin/token mechanism
Drain pump
Stainless steel plinths
Stainless steel fronts